Part 5 of my ongoing Electric Car series.
Fixing my mistake with the Mach E order would cost $5,000 extra, plus taxes (for the extended-range battery) and another trip to the awful dealership, including redoing the price negotiation. No way. Life's too short for that stress.
The Polestar 2 was my second choice for an electric car. It's very comparable specs-wise to the Mach E, except that when Ford zigs "Comfort" Polestar zags "sustainability". The car's no slouch, with 408 HP in its AWD configuration, and neat touches like reclaimed wood for the dashboard, carpet made from recycled water bottles, and a fabric they call "WeaveTech" for the seats that they position as a modern, sustainable luxury alternative to leather.
I saw it described in an online review as "imagine if BMW tried making a car out of Volvo parts," and that is where I got the title for this post.
Polestar is really trying to be a Tesla alternative. It's a joint venture between Geely and Volvo (itself owned by Geely; Polestar was structured this way for boring organizational reasons). It went public recently via a SPAC; I don't care one way or another, but I state it for completeness.
Volvo lends its design expertise, safety chops, and nice switchgear to Polestar cars. This is relevant only because I recently drove a newish Volvo S60, and I absolutely loved it. Polestar 2s are manufactured in a Volvo plant in China.
Polestar doesn't have "dealers" but it has "spaces." They're… dealers? that hold court in carved-off sections of Volvo dealerships. There aren't a lot in the country yet. The closest one to me is in Austin. They don't seem to get the level of pricing control that Ford, or other traditional dealers get.
You order a Polestar online (when the website works, as it tends not to), arrange financing online, and you get an actual price online. I know these things because I ordered one. It turned out that Polestar Austin had the exact configuration I wanted in stock, so I won't have to wait weeks. A very calm person from the Polestar "space" in Austin called me, just to confirm I was real and understood I was buying a car (do people just click on these things at random‽) and to arrange delivery. I decided to pick it up in person, which sounds a lot more fun than waiting for a truck.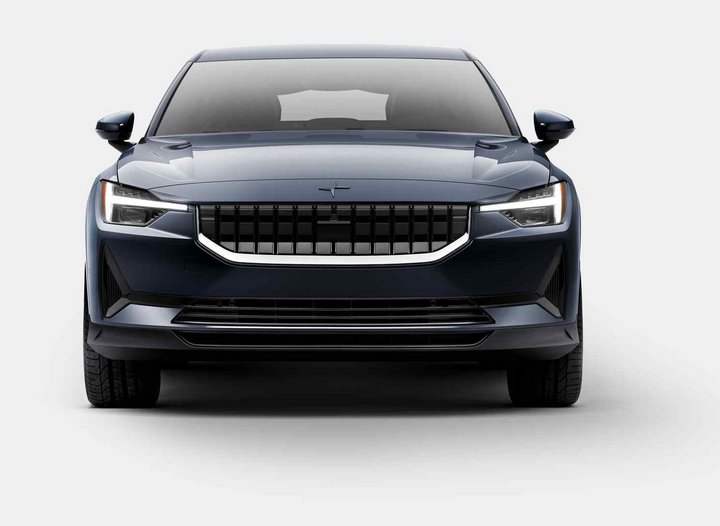 I dig the look. The Thor's Hammer headlights are straight from Volvo, of course. The grill reminds me of Peugeot, for some reason I can't quite put my finger on. It's smaller and taller, I read, that what it looks like in pictures. It's, in fact, shorter than a Honda Civic!
The car's a fastback with a somewhat-higher seating position. The non-performance version rides on 19″ wheels, so it should be more comfortable and better able than the performance version to soak up potholes. From all I've read, the ride and handling on the non-performance version are top-notch.
I'm psyched to pick it up and drive it home tomorrow. I went for the Plus and Pilot packs (better equipment and driver assists), leaving Performance out; from all I've read and watched, the Ohlins dampers in the performance pack are cool but not worth it. I also skipped the actual-leather seats; for one, I'm going with the 'sustainable' theme, so the vegan, man-made surface seems more appropriate. Leather's also $4,000 extra, which is nuts. Unfortunately, it's the only ventilated option, which I will sorely miss, but pre-cooling the car while plugged in should help soften the blow.
In the end, the car's a little more expensive than the standard-range Mach E, but cheaper than the extended-range; and knowing I won't have to deal with a Ford dealer? Priceless. Polestar's 0% APR will also pretty much nullify the delta with Ford. More range, more power, less money, cooler, quirkier, niche brand. I like it.
Things the Mustang Mach E has that the Polestar doesn't:
Bang & Olufsen audio
BlueCruise
An extensive dealership network
Auto-negotiation with chargers (this is a really cool feature)
A six-month wait
App as key
Things the Polestar has that the Mach E doesn't:
A distinct lack of traditional entitled dealers
Android Automotive (the Mustang runs QNX, although Ford has committed to Android Automotive; I don't know how, and if, they're going to move the Mustang to AA or leave it as a holdout)
More power and a longer range (compared to the standard battery I was getting)
Google Maps in the driver's instrument cluster (I *love* this)
Immediate availability
Polestar will pick up the car if it needs service, so the lack of a dealership network isn't such a problem. Plus, an electric car should be extremely reliable mechanically.
Both cars subscribe to the Tesla style of Over The Air software updates that improve features and performance, which I love.
In the end, I'm happy and excited for the outcome. The Polestar 2 sounds wonderful, and I can't wait to actually try it out and drive it home!
Next: Polestar