In the end, FedEx managed to get the printer to a store on Saturday, and the automated tracking system emailed me. When I drove to the store… the printer was there, and I got it. Very uneventful. They did a good job of uniting me and my parcel. There was a bit more anxiety than necessary, but it worked out well.
Of course, this meant that I had to schlep 56 lbs of printer myself. My biggest challenge turned out to be getting it in the trunk of the car. Second challenge: fitting through doors with the thing. It's huge. Look, here it is printing a letter-sized photo. It seems lost in a gaping printery maw. It's a Canon Pixma Pro 10, and it dwarfs the little IKEA table I had handy. Fortunately, the thing's quite stable.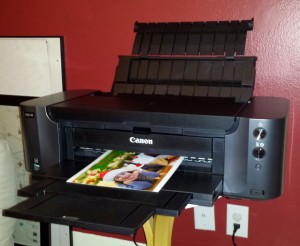 Also, hooray for built-in WiFi connectivity. This means I can put it on the other end of the room instead of finding very scarce space next to the computer.
The Pixma Pro 10 uses 10 pigment-based ink cartridges. Setup versions, so I already ordered a $ 135 replacement set. Unpacking each one and placing it in the printhead takes forever. It makes you think you'll never be done.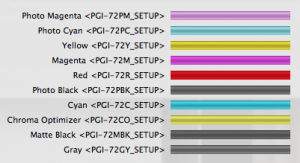 One weird thing about the pigment inks it that they are prone to sedimentation. The printer will regularly agitate them by moving the print head around by itself.
I'm very much looking forward to torturing regaling friends and family with high-quality gallery-worthy prints of Grumpy Cat beautiful pictures. So far, the quality of the prints I made on some Paper Pro Platinum I had lying around is outstanding. A black and white print looks fantastic as well; very little bronzing.
Finally, for the sake of full disclosure. The paper I had for greeting cards didn't agree with the Pixma Pro 10 at all. The PP10 soaked the paper and the prints looked muddy. I ended up printing them in my old, obsolete, dye-based Canon four-ink all-in-one. They had worse color gradations, but overall looked much better.